By clicking the Icons at the sides of the pages, you may surf through 20 info filled Pages of our Web-Dojo. Thanks for visiting & check back soon as our site is updated very OFTEN!
"He who is not courageous enough to take risks will accomplish nothing in life."
Muhammad Ali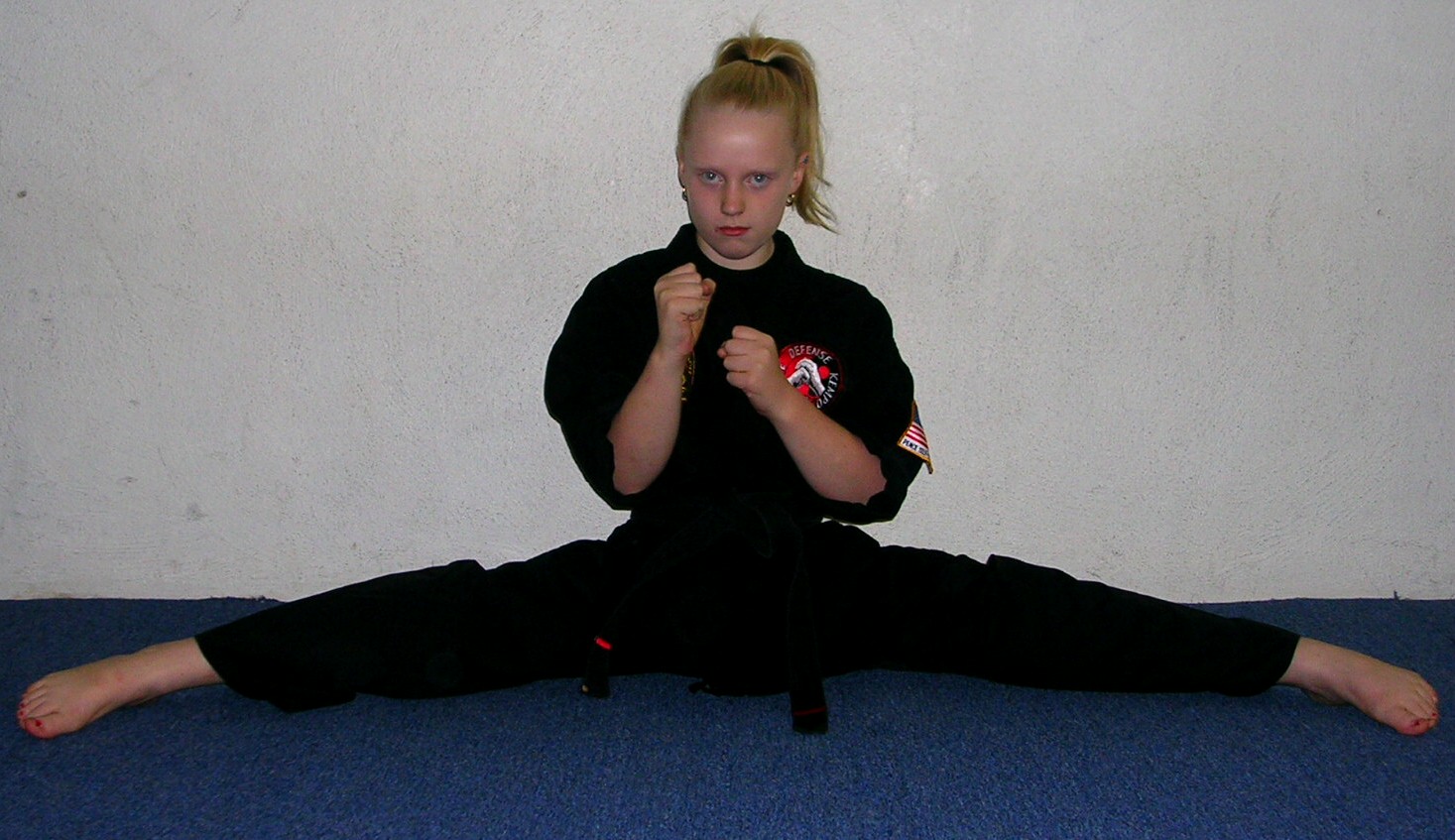 How do I choose a Martial Arts school?

When looking for a school, make sure you ask Lots of Questions!

Print this out before you go to the area schools, and don't be shy! Just ask the questions, and you will get to know what you need to know, to make a good choice for you or your child!

*Is the actual class taught by a qualified Instructor?

*How many student to teachers in a class?

*Find out what the instructors credentials are.

*How many years have they trained in the arts ?

*How many years have they taught the arts ?

*Does the instructor still take as a student from a Senior Instructor?

*Is the school part of a established organization?

*Do they mind if you contact the organization to verify?

*Does the Dojo follow an established system of teaching?

*Does the Dojo teach sport karate or an established system of self-defense ?

*Do they allow free trial membership?

*Is the training hall cleaned ie ( rugs, mats, pads, and bathrooms) .

* Are the students disciplined and respectful, but still having fun?

*Talk to the students, watch a class or two.

* Are the students disciplined and respectful, but still having fun?

*Talk to the students, watch a class or two.


Prospective Student's First Class:

What to bring ( or not ) and wear
Wear loose fitting long pants and socks.

Wear a plain shirt that tucks in with no buttons or pockets.

Bring a bottle of water to every class.

DO NOT carry any live weapons into our school. You will find yourself quickly ejected! Government and law enforcement agents must have their firearms correctly secured away and out of sight. We have a safe were they may be checked.

If you have a pre-existing injury it must be properly dressed and cared for before you begin to train. We had red tape (to mark) at the dojo so that other may be remined of your injury.

We ask that you call before you plan to attend your first class to schedule your visit.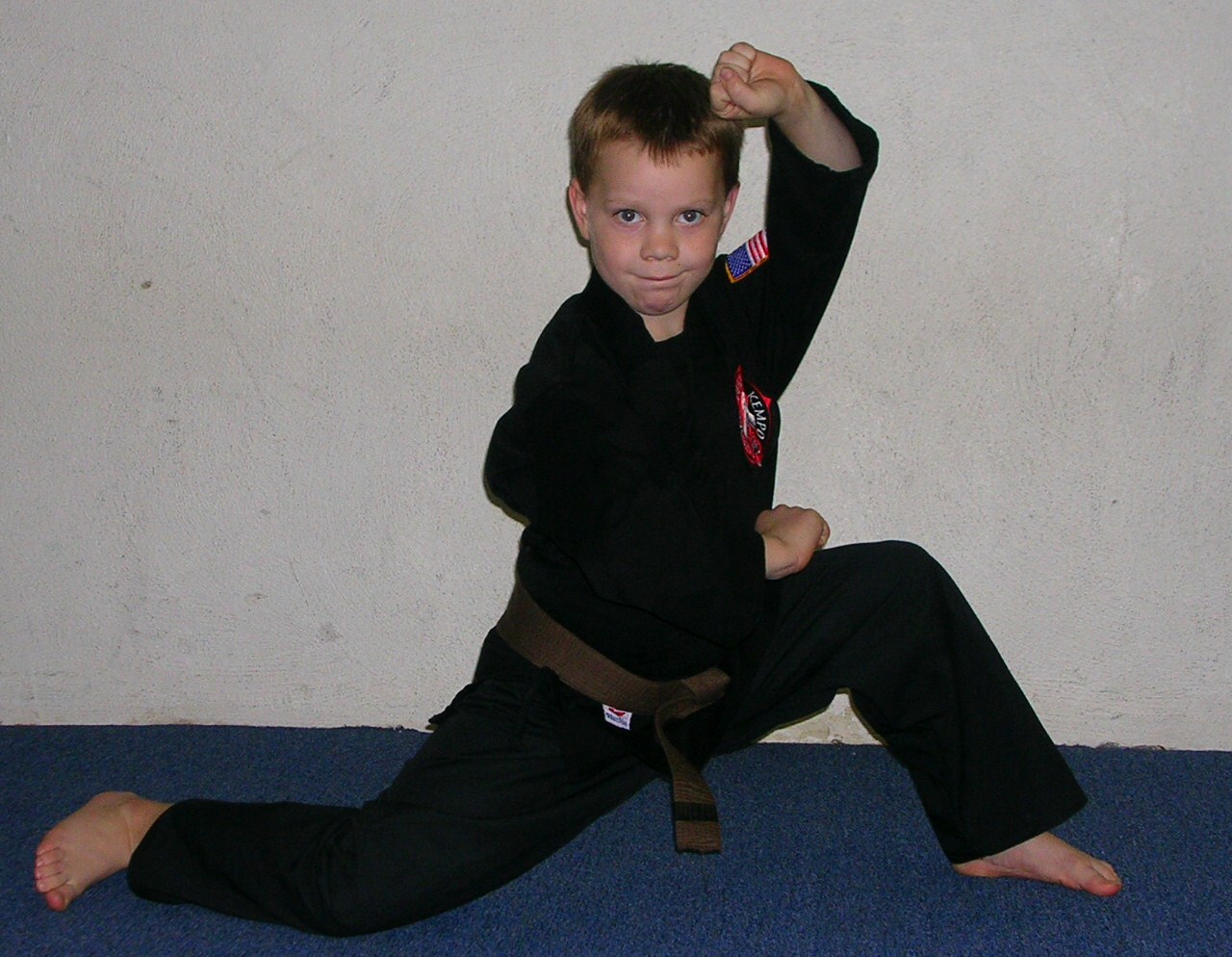 "At Pence Self-Defense there are no Contracts, no Enrolling Fees no Quick ranks, no Guaranteed belts or False claims. Only dedicated Instructors, dicipline, hard work and real life Self-defense."
Pence Self-Defense is pleased to offer a Free week of training for all new students. This is in keeping with our role as a unique community resource for those who wish to learn about the martial arts.
"Free" means:

No cost to the student

One free intro private.

No contracts EVER or further obligation.

Regular training with group classes.

You provide only the sweat!

We hope you will take advantage of this special offer.
No cost to the student

One free intro private.

No contracts EVER or further obligation.

Regular training with group classes.

You provide only the sweat!

We hope you will take advantage of this special offer.
What do you have to lose!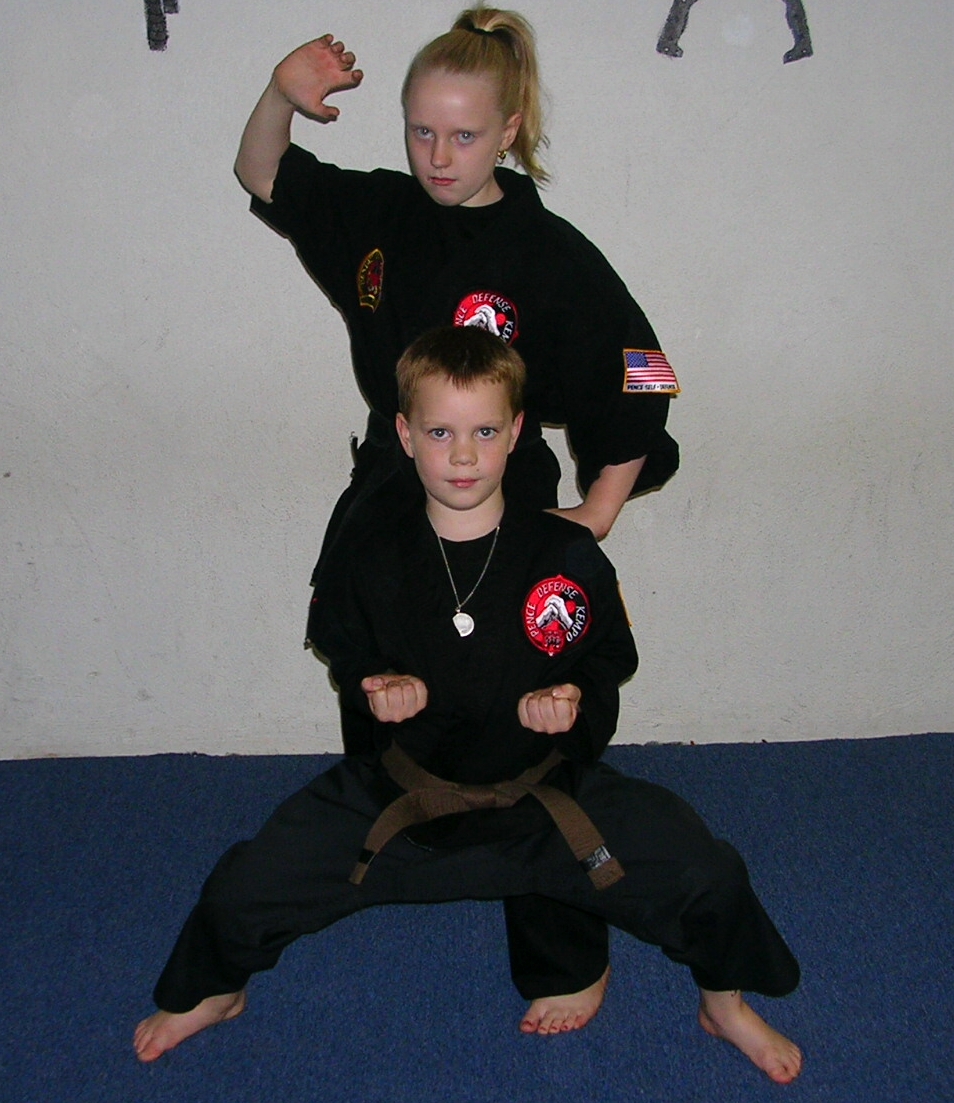 This Dojo has been teaching the ancient and martial arts of for more than 40 years. Many Masters of today have trained within these walls. We provide our students traditional training with proven efficient self-defense techniques, traditional Japanese, Filipino and Chinese Kata, defense against knives, guns, clubs and multiple opponents. Our Ju-jitsu's combo's will work your skills to escape from grabs and holds. The Chin-Na techniques training will teach you how to trap, lock and control your attacker. Our Shaolin Five Animal fighting techniques will work on all of this and more. The training with traditional martial art weaponry will give the student a good rounding of their art.

CALL FOR AN APPOINTMENT TODAY TO SCHEDULE A "FREE INTRO" PRIVATE CLASS FOR YOU OR YOUR CHILD.



Our price compared to most other schools is far less than than theirs, however you get more! Classes can be as low as $5.75 per hour class.
Field-tested Self-Defense.
F.M.A. Kali program.
Yoshitsune Ju Jitsu program.
Two competition every Year (W.M.A.F. Tournaments) .
Special Parking Lot Self- Defense with Key Chain Stick.
Special Seminars with Top Masters from around the World.
Over 2000 sq ft. with many training apparatas.
Five Animal Kung-Fu.
Our training surface is matted with the highest quality mats.
Ladies-only classes.
Classes for young children (5-7 ) (8-13) years of age.
Special make-up classes.
Summer camp programs with Sensei.
A strong Blackbelt program.
We teach traditional Kata, and Kumite.
Weapon classes (Nunchakus, Bo, Tonfa, Sai, Kamas, Jo, Dao, Spear, Dagger and Baston).
Private lessons are also available.
Do you have the knowledge, skills and mindset to really protect yourself out on the streets? Knowledge, skills and mindset in:

Empty hand, knife, impact weapon combatives, Physical and mental conditioning.


Physical and mental conditioning.


The Pence Self-Defense Academy can give you functional training in these critical survival skills. For when that moment arrives, where failure is not an option, only your training will help you prevail when faced with today's vicious, and frequently trained thugs.

TOP 10 REASONS FOR KIDS SHOULD TAKE MARTIAL ARTS

In the good old days , parents worried more about their children
being home by the time the street lights came on than whether they got the recommended amount of daily activity. Today, however, the world has changed and we are faced with a myriad of challenges that were unheard of only a generation ago.
Here are Pence Self-Defense's Top 10 Reasons Why Kids Should Take Martial Arts Classes:


1. A HEALTHY, LIFETIME HABIT
Kids who exercise are more likely to keep exercising as adults. Because
of our emphasis on personal responsibility, respect, discipline, and
control; and our acceptance of individuals of all levels of physical
skill, Martial Arts provides a great alternative to other sports, which may
tend to exclude certain children.

2. MAINTAIN A HEALTHY BODY
The exercises we do in class help our students improve cardiovascular
function, build muscle, and achieve and maintain a healthy body weight.

3. MAINTAIN A STRONG BODY
Regular physical activity such as Martial Arts helps build and maintain
strong, healthy muscles, bones and joints.

4. MARTIAL ARTS DEVELOP OTHER SKILLS
Because our curriculum emphasizes Courtesy, Modesty, Respect, and
Integrity Martial Arts aids in the development of important interpersonal
skills. In addition, Martial Arts at our school promotes the
self-discipline necessary to set and achieve life goals. Of course, we also offer the best in self-defense training.

5. FEEL BETTER AND SLEEP BETTER
In conjunction with a healthy diet that is low in fat, artificial
flavors and colors, and preservatives, vigorous physical activity such as
Martial Arts classes improve the quantity and quality of childrens sleep.

6. PERFORM BETTER IN SCHOOL
Our own experience, as well as research has shown that the emphasis
placed on Focus and Concentration as developed in our classes promotes
improved school attendance and enhances children s academic performance.

7. DEVELOP A STRONG SELF-IMAGE
Because of the positive, highly motivational atmosphere of our classes,
kids who practice Martial Arts have greater self-esteem and better
self-images. Children with a strong self-esteem are better equipped to
resist bullies and negative peer pressure.

8. REDUCE THE RISK OF CERTAIN DISEASES
Participating in regular physical activity prevents or delays the
development of many chronic diseases for children (e.g., heart disease,
diabetes, obesity, and hypertension) and promotes an overall healthy
lifestyle.

9. REDUCE ANXIETY AND STRESS
Children who are active report fewer symptoms of anxiety and depression
and a better overall mood.

10. IMPROVE MOTOR SKILLS
The blocking, punching, kicking and other techniques and drills of
Martial Arts helps improve children s motor coordination and enhances the development of various motor performance skills.

"The greatest discovery of any generation is that a human being can
alter his life by altering his attitude." -- William James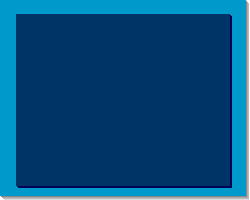 Bullies
Your child has always enjoyed learning, but lately seems to avoid school. Stomachaches and mysterious illnesses pop up in the evening and seem to get worse as the school bus gets closer to your house in the morning. It's possible the problem has nothing to do with how last night's dinner was. Your child could be worried sick over a bully at school.
When dealing with bullies we use the saying "be the Matador". This is to say, it's best to keep out of the way of the a charging bull. Aviod rather than check but, at some point the bully must be dealt with. Teaching effective methods of dealing with bullies without having to resort to violence is always first. When a student learns the self -defense techniques inour art, they become more confident and are less likely to become victim.
Signs That a Child Is Being Bullied
Of course, bumps and bruises are telltale signs your child has been physically bullied, but you can watch for other less obvious hints, too:
inventing mysterious illnesses to avoid school (for example, stomachaches, headaches, etc.), missing belongings or money, sleeping problems, bedwetting, irritability, poor concentration, unexpected changes in routine , problems with schoolwork
Unfortunately, there may be situations when our students are at physical risk of being harmed. If left with no other options, they are taught to respond to ensure their safety.
Remember be the Matador. Olay!


NEARLY ONE MILLION KIDS GO MISSING EACH YEAR.


The Latest Statistics reported over 800,000 missing children last year alone--that's an overwhelming average of more than 2,000 missing kids each day. Parents everywhere find themselves saying what they can do to keep their children safe. Here at our dojo it is always about self-"defense" i.e. never starting a fight, just find ways to get out, with fighting as a last resort. However this is not just physical, it is also the mind that is trained to see when trouble is near.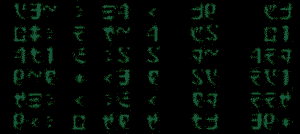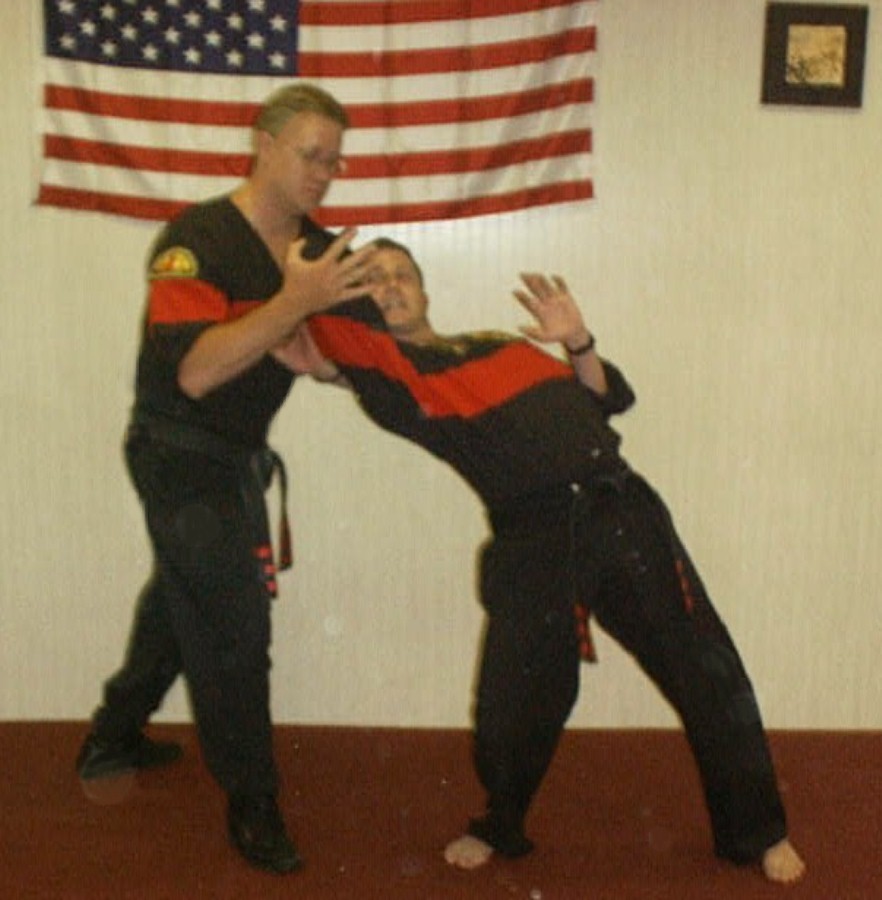 TO ASK ? CLICKHERE
OUR MOTTO:
" Peace over Power ... First "
K.P. Sr. Sensei

THE FIVE PRINCIPLES:
SINCERITY: Honesty of mind or intention: truthfulness.
EFFORT: Putting forth an exertion of strength or power, physically or mentally.
ETIQUETTE: The conventional code of good manners which governs behavior in society.
CHARACTER:The total sum of the qualities making up an individual: moral excellence.
SELF-CONTROL: Control over one's own impulses, emotions or acts.
I have always know these to be the five principles of Kempo. I have put them in an order in the our dojo as to have the students realize them in a way that follows suite with the phrase "S.E.E.C.S."
In this order, it must come from a practice of the following. First the Sincerity to the teacher that you want to learn, then the Effort that it takes to learn the Etiquette, this develops the Character and to maintain it takes Self-control. While this is but one way to say it... it's our way.
SINCERITY, EFFORT, ETIQUETTE, CHARACTER, SELF-CONTROL.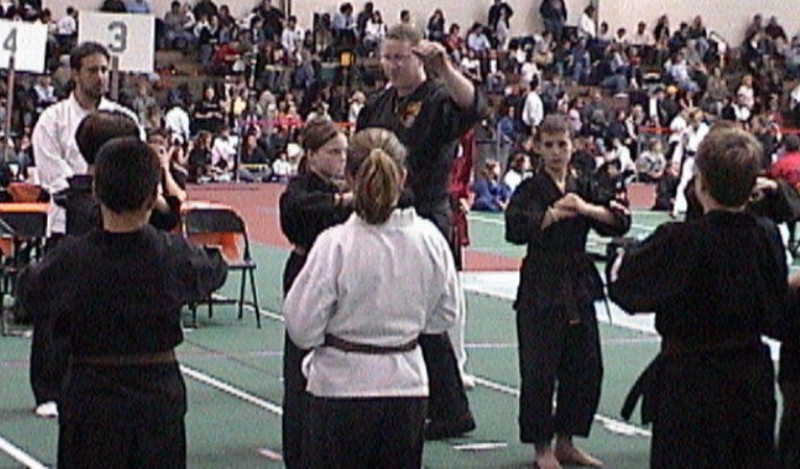 W.M.A.F. Toury 2002
WHAT'S THE DIFERENCE BETWEEN KEMPO & KENPO ?

There is no difference between the words 'Kenpo' and 'Kempo', they are just different ways of writing the original Japanese word. The word 'Kempo' or 'Kenpo' is made up of the following two Japanese characters:


The character on the top is "ken" and means fist, the character below is "hou" and means law, method, or way. When these two are combined the "hou" character is pronounced "pou" (as in "pour"), and the "n" of "ken" becomes an "m" sound. However, the Japanese phonetic scripts have only one character for the "n" and "m" sounds, so this is written "n" with the English alphabet, regardless of how it is pronounced. So "Kenpo" is the standard way of writing the Japanese word with the English alphabet, but some choose to write "Kempo", which is its actual pronounciation. No matter how you may spell it is all the the same art .
How safe is it ?
The chances of injury are extremely low. The martial arts has one of the lowest injury rates of contact sports.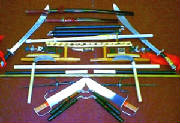 Do you work with Weapons?
YES!
Some of the original Okinawain Kobudo including Tonfa, Sai, Kama, Bo, Jo, ,and Katana. Chinese weapons taught include Spear, Shaolin Broad Sword (Dao), Butterfly Swords, Filipino, Kali baton & dagger. As well as modern weapons found in everyday life.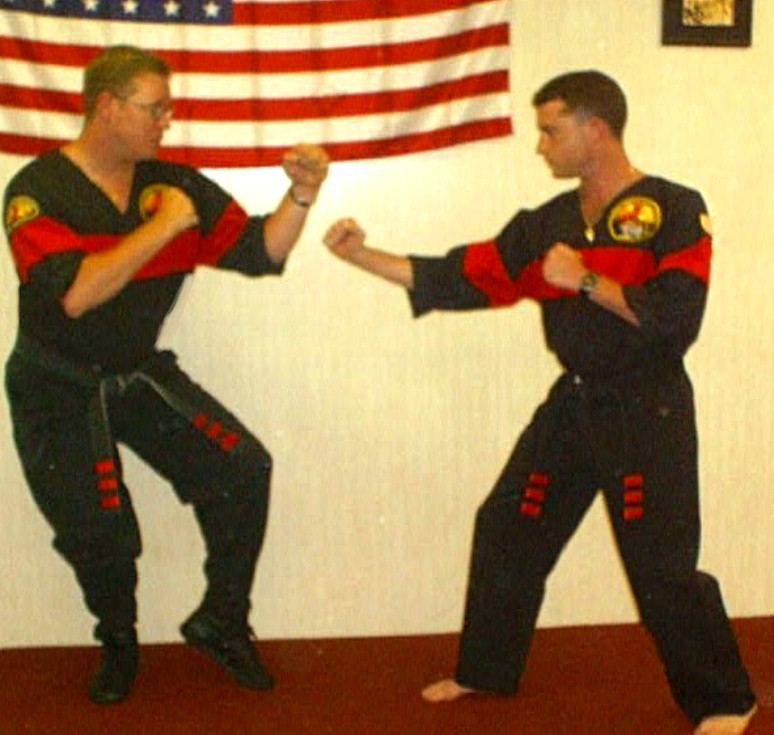 WHY TRAIN IN THE DOJO AND NOT A GYM ?


Have you watched the news lately?

Why not get something out of your time and energy, at the end of a day in a gym you have lifted a thousand pounds or walked for miles , but what do you have ?!

At the dojo, you go home with an art that is yours forever, You need little or no space to work it and you out . Who knows ... you may someday pass along the art to someone else!

Invest in yourself and prepare for the time you may have to defend yourself or your family? Training in the Arts will give you the confidence and technique you need to control any situation. You will learn the physical principles of self-defense, you will also develop the mental awareness you need to avoid any problem

situations.
Parent's Night Out Friday
Let us entertain the kids, games, with movies, pizza and more! 7:30 to 10:30 pm. Just $10 per child. Friends welcome.
EVERY 3rd FRIDAY .
How long does it take to earn your Black Belt?

The time it takes to become a Black Belt is dependent on your abilities and hard work. For students to reach a Black Belt, most students take 3 1/2 -4 years. The more time spent in practice in conjunction with 2 or 3 group classes per week will allow you to progress faster than those who only practice in 1 class per week. One monthly private class also helps!!!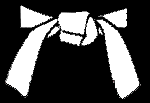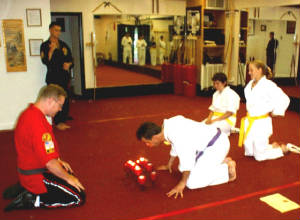 BLACK 1st deg. SHODAN
BROWN 3rd deg. IKKYU
BROWN 2nd deg. NIKYU
BROWN 1st deg. SANKYU
GREEN w/BROWN YONKYU
GREEN GOKYU
BLUE w/GREEN ROKKYU
BLUE SHICHIKYU
PURPLE HACHIKYU
ORANGE KUKYU
YELLOW JUKYU
WHITE KYU
CAN YOU COME TO US ?
YES, WE OFFER CORPORATE CLINICS FOR YOU & YOUR EMPOLEES AT YOUR WORK OR SCHOOL FOR "STREET SMART SELF-DEFENSE" THAT WORKS GREAT IN PARKING LOTS, CARS OR ANYWHERE! IN JUST A FEW HOURS WE CAN TEACH YOU THE TRICKS TO STAY CLEAR OF AN ATTACK & HOW TO GET OUT OF MANY HOLDS THAT MAY HAPPEN IN THE STREET!
GIVE US A CALL FOR MORE INFO & TIME SLOTS.
(877)-KARATE U.S.A.
1- 877-527-2838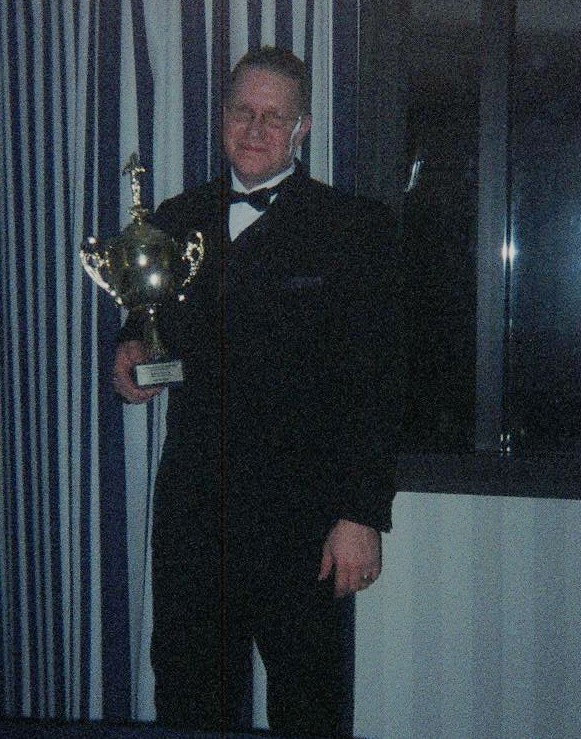 'It's Not the Size of the Dog in the Fight; It's the Size of the Fight in the Dog that matters".
Unknown