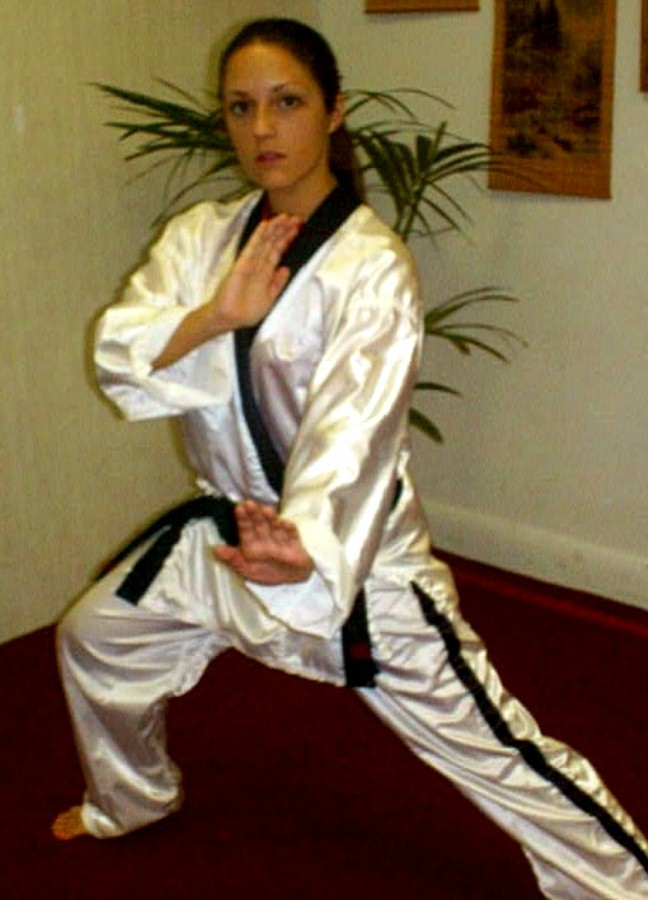 Prospective Student's First Class:
What to bring ( or not ) and wear
Wear loose fitting long pants and socks.

Wear a plain shirt that tucks in with no buttons or pockets.

Bring a bottle of water to every class.

DO NOT carry any live weapons into our school. You will find yourself quickly ejected! Government and law enforcement agents must have their firearms correctly secured away and out of sight. We have a safe were they may be checked.

If you have a pre-existing injury it must be properly dressed and cared for before you begin to train. We had red tape (to mark) so that other may be remined of your injury.

We ask that you call before you plan to attend your first class to schedule your visit.
Q. How do I choose a Karate school?
When looking for a Karate school make sure you ask Lots of questions!!!
Is the actual class taught by a qualified instructor?
Find out what the instructors credentials are.
How many years have they trained and taught.
Is the school part of a known organization.
Do they mind if you contact the organization to verify.
Does the Dojo follow an established system of teaching?
Do they allow 1- to 2- week free trial membership?
Talk to the students. Are the students disciplined and respectful, but still having fun?
CALL FOR AN APPOINTMENT TODAY TO SCHEDULE A FREE PRIVATE CLASS FOR YOU OR YOUR CHILD
WHY TRAIN IN THE DOJO AND NOT A GYM ?
Have you watched the news lately?
Why not get something out of your time and energy. At the end of a day in a gym you have lifted a thousand pounds or walked for miles, but what do you have? At the dojo, you go home with an Art that is yours forever. You need little or no space to train. Who knows ... you may someday pass along the art to someone else !
Invest in yourself and prepare for the time you may have to defend yourself or your family! Training in the Arts will give you the confidence and technique you need to control any situation. You will learn the physical principles of self-defense, you will also develop the mental awareness you need to avoid any problem
situation.
TOP 10 REASONS FOR KIDS SHOULD TAKE MARTIAL ARTS



In the good old days , parents worried more about their children
being home by the time the street lights came on than whether they got the
recommended amount of daily activity. Today, however, the world has
changed and we are faced with a myriad of challenges that were unheard of
only a generation ago. For instance, today s parents are advised to
monitor their children s body mass index (height-to-weight ratio) as the
obesity epidemic among children ages 6 to 19 has reached nearly
quadrupled from what it was in the 1960s.

Physical activity such as karate will not only help today s
children by preventing them from becoming obese or helping them to lose
weight if necessary, it will also teach them healthy habits that can last a
lifetime. Here are Pence Defense Kempos Top 10 Reasons Why Kids Should Take Martial Arts Classes:



1. A HEALTHY, LIFETIME HABIT
Kids who exercise are more likely to keep exercising as adults. Because
of our emphasis on personal responsibility, respect, discipline, and
control; and our acceptance of individuals of all levels of physical
skill, Martial Arts provides a great alternative to other sports, which may
tend to exclude certain children.



2. MAINTAIN A HEALTHY BODY
The exercises we do in class help our students improve cardiovascular
function, build muscle, and achieve and maintain a healthy body weight.



3. MAINTAIN A STRONG BODY
Regular physical activity such as Martial Arts helps build and maintain
strong, healthy muscles, bones and joints.



4. MARTIAL ARTS DEVELOP OTHER SKILLS
Because our curriculum emphasizes Courtesy, Modesty, Respect, and
Integrity Martial Arts aids in the development of important interpersonal
skills. In addition, Martial Arts at our school promotes the
self-discipline necessary to set and achieve life goals. Of course, we also offer the best in self-defense training.



5. FEEL BETTER AND SLEEP BETTER
In conjunction with a healthy diet that is low in fat, artificial
flavors and colors, and preservatives, vigorous physical activity such as
Martial Arts classes improve the quantity and quality of childrens sleep.



6. PERFORM BETTER IN SCHOOL
Our own experience, as well as research has shown that the emphasis
placed on Focus and Concentration as developed in our classes promotes
improved school attendance and enhances children s academic performance.



7. DEVELOP A STRONG SELF-IMAGE
Because of the positive, highly motivational atmosphere of our classes,
kids who practice Martial Arts have greater self-esteem and better
self-images. Children with a strong self-esteem are better equipped to
resist bullies and negative peer pressure.



8. REDUCE THE RISK OF CERTAIN DISEASES
Participating in regular physical activity prevents or delays the
development of many chronic diseases for children (e.g., heart disease,
diabetes, obesity, and hypertension) and promotes an overall healthy
lifestyle.



9. REDUCE ANXIETY AND STRESS
Children who are active report fewer symptoms of anxiety and depression
and a better overall mood.



10. IMPROVE MOTOR SKILLS
The blocking, punching, kicking and other techniques and drills of
Martial Arts helps improve children s motor coordination and enhances the development of various motor performance skills.


"The greatest discovery of any generation is that a human being can
alter his life by altering his attitude." -- William James


I would like to Thank all who have helped me "along the path"... my Family, Teachers, Friends & all the members of my Martial Arts Family.
Yours in the Arts;
Kevin Pence Sr. Sensei

Pence Self-Defense Academy
226 Cambridge St. Burlington MA 01803 U.SA.
(781) 272-9709or (877) -KARATE-U.S.A
527-2838
Copyright Vigorously enforced. © 2000-2012